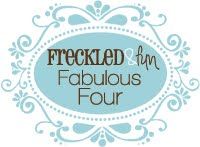 Beth Silaika
Anita Recksiedler
Debbie Corbari
Valerie Stangle

Good morning! This month, the Fab Four is showing off two new stamp sets of Deck the Halls and Sentimental Holidays. I love them both. I have a lot of cards, tags and little gift boxes that I'll be showing you over the next couple of days added to this post so be sure to check back. Here's what the sets look like. The fresh images and beautiful fonts are truly breathtaking.
Don't you just love these? Sentimental Holidays I would have to say is my favorite but I don't discriminate either 🙂 I've been doing a lot of masculine cards for my dad lately for a lot of different occasions and this will be one of the Christmas cards he sends out. It's not too girly but just pretty/cool enough to where he could send it out and feel good about it.
I don't have the actual stamp set of Sentimental Holidays in my hot little hands yet but will eagerly run to the mailbox today to see if it's there or not. I do have digital files and the cut files so wish me luck on that because I am tech challenged in a bad way.
Today I made this cute card using Deck the Halls and the Merry Little Christmas Pure Luxury Paper and ribbon. The images were cut out with my Silhouette (so easy), stamped and adhered down to my card stock. The holly leaves are from the Merry Little Christmas Stamp TV Kit stamped in Versamark with little red pearls for my berries.
Be sure to check out what the rest of the ladies made for you! Thank you so much for stopping by to visit me today and God bless you!